The average annual cost to establish and maintain each professionally supervised Big/Little match relationship is $2,000. As a donor-supported volunteer organization, we rely on our generous supporters to help fuel the power to change the lives of these boys and girls.
Ensure a match is supported for one year
$100 supports the cost of our volunteer outreach and recruitment efforts to help us attract new mentors for children in need.
$250 funds the cost of one comprehensive background screening for a potential volunteer.
$1,000 covers college readiness, tours, SAT and ACT prep for our 10th and 11th grade Littles.
$2,000 allows you to adopt a match by underwriting the cost to establish and maintain this professionally supervised relationship for one year.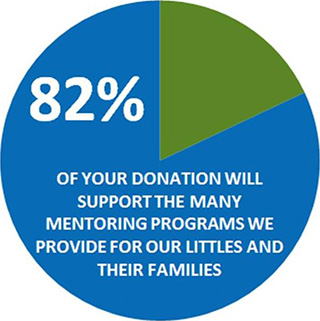 HOW TO DONATE
Here's your chance to make a real impact on the lives of kids in need of a mentor in New York City. All it takes is one phone call, one check, or one click online.
Big Brothers Big Sisters of New York City is a 501(c)(3) nonprofit organization. Donations to Big Brothers Big Sisters are fully tax-deductible as allowed by federal law.
By Phone
Just call our Development Department at 212-686-2042
By Mail
Simply send your check made payable to BBBS of NYC to:
Development Department
Big Brothers Big Sisters of New York City
40 Rector St., 11th Floor
New York, NY 10006
On behalf of our Littles and their families, we thank you for your support.
Stock Delivery Instructions
DTC Number: #0571
Brokerage Firm: Oppenheimer & Co.
200 Park Ave., 25th
New York, NY 10166
Account Name: Big Brothers Big Sisters of New York City
Account Number: G24-2100084

Contact: Sheila M. Schmidt
Registered Client Service Associate
Oppenheimer & Co Inc
200 Park Avenue 25th Fl
New York N Y 10166-2599
212-907-4537 (t)
212-667-6408 (f)
shelia.schmidt@opco.com
Tax ID: 13-5600383

Planned Gift
You can support BBBS of NYC through your estate and financial plans, including wills, trusts or other instruments, as well as donations of property.Planned gifts can be structured in a variety of ways to provide for loved ones by generating income for a spouse or other family members, or resources for your own retirement. We recommend that donors consult with their own tax or legal advisors prior to making a planned gift.
For information on including BBBS of NYC in your estate plans, please contact the Development Department at (212) 686-2042.